Written by Administrator
Tuesday, 18 September 2012 23:23
Home after a great weekend of darts. Even though the result was not 100% it was pretty close.

The event was the Sweden Cup 2012 and my team Stockholm 1 (Tommy Pihlblad, Kenneth Högwall, Rickard Johansson, Maud Jansson, Kristine Bomander and coach Rolf Rosenvik) got silver in the teamevent on Saturday

I was elected best teamplayer and got awarded a very nice trophy on the banquet on Saturday evening. Very proud of that.

Sunday I and my partner Tommy P lost the final in the doubles but on the way we produced some great darts. First time I played with Tommy can for sure play with him again what a great guy.

In single I lost in the semis with 4-3 missed two darts on double tops for the match so that I am not so happy with, but you can't win them all.

But over all is was a great weekend of darts with good friends and ofcourse I played with my Cosmo Darts Fit Flight. Best I played with.

See you at the dartboards.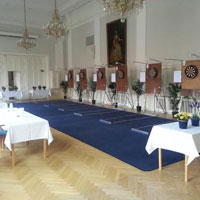 Last Updated on Monday, 07 January 2013 23:43